Microneedle Technology
Changing the Future with Next Generation TTS
The microneedle technology provides a new patch type transdermal absorptive drug that administers a drug into the body by applying a skin patch of microneedles containing the drug on their tips.
Features of microneedle formulation

Enables transdermal delivery of water-soluble polymer drugs

Drug administration without pain and bleeding

Simple and safe form of drug administration to enable self-administration

Solid formulation convenient for transportation and storage

Decrease in cost of syringe needle waste treatment

Enables large scale vaccination against a pandemic
What is soluble microneedle?
Soluble microneedle is a drug delivery system (DDS) that promotes penetration of drugs and active ingredients into the body safely and efficiently. The system has acquired much attention as a next generation transdermal absorption technology. Soluble microneedles developed by the proprietary technology of CosMED Pharmaceutical is a sheet formed by an array of microneedles, which have a height of several dozen to several hundred micrometers depending on use, with a mixture containing highly biocompatible macromolecular hyaluronic acid as a base component and drugs or active ingredients. When the sheet is applied on skin, the needles directly enter the skin to dissolve and penetrate into the skin. Thus, much more active ingredients can be delivered more efficiently than direct application of a formulation on skin. As a formulation substituted for injection owing to their effect and also their safety and ease of administration, soluble microneedles attract much attention not only from medical field but also beauty care field.
Soluble microneedles

Microneedles are formed of water-soluble polymers such as hyaluronic acid. The needles dissolve with the moisture on skin to release drugs. They are applicable for repository preparations of micromolecular drugs, peptides and proteins. They are productized and marketed in 2008 as the world's first microneedle cosmetics.

Examples of developed products

Hair growers, local anesthetic drugs, beauty care products for wrinkle and fleck care, etc.
Insoluble (biodegradable) microneedles

Microneedles of polymers, such as PGA and PLA that have been employed for medical device, are applied with drugs on their tips. They are employed for administering trace of expensive drugs or vaccination.

Examples of developed products

Influenza vaccines, hepatitis C treatment agents, diabetes treatment agents, osteoporosis treatment agents, etc.
The Idea of "Soluble Microneedles"
Before we started the development of microneedles, researchers vigorously discussed about treatment in which drugs are delivered to skin injured by microneedles of hard materials including metals and silicones at international institutions. The tools for the treatment, however, were far from productization because of various troubles, such as broken needles remaining in skin and pain in treatment.
From our perspective that treatment by injuring human skin is not practical, we came up with the idea of "soluble microneedles" made of hyaluronic acid and collagen that are soluble in human skin.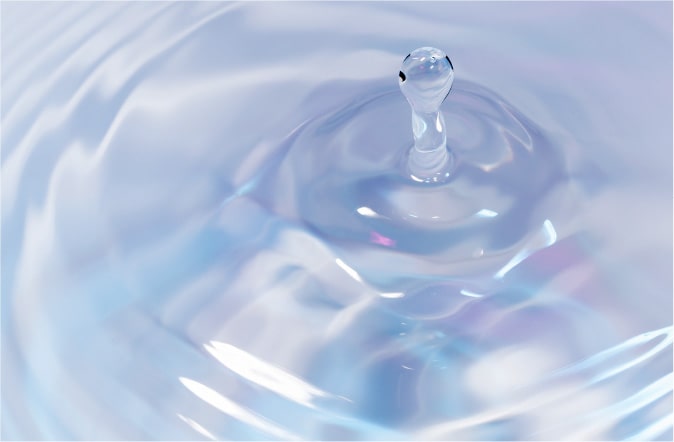 Established the world's first industrial manufacturing process
About two years after starting the developmental work, we succeeded in developing the technology of "soluble microneedles" to crystalize active ingredients in invisible microfine needles of hyaluronic acid and collagen that are the natural skin components. In the conventional techniques, macromolecular components, such as hyaluronic acid, cannot be delivered to skin except by injection. Our "soluble microneedles" dissolve with moisture in skin when applied on skin and enable easy and safe delivery of active ingredients into skin.

We applied the technology to the development of cosmetics that can be productized in a shorter time than drugs and established the world's first industrial manufacturing process to productize such cosmetics. The next-generation cosmetic mask products are characterized by hyaluronic acid microneedles arrayed into a sheet like a pinholder that penetrate and dissolve and remain in the skin and have been getting a great response from the start of launching.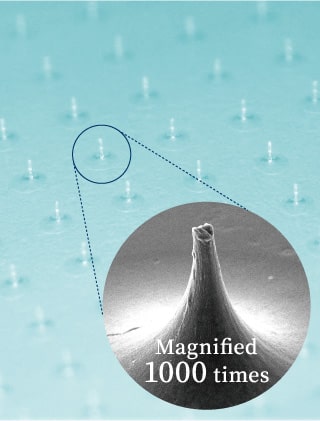 Change in the form of hyaluronic acid microneedles in use

Before application

After application
Dispersion of the ingredients in hyaluronic acid microneedles

Before application

After 20 minutes

After 60 minutes
"Drug Patch" and "Vaccine Patch" under development in cooperation with universities
Our goal is contribution to medical treatment with TTS technology. At present, we are developing drugs by applying microneedle technology in cooperation with Osaka University and Kyoto Pharmaceutical University. The target of the development includes "Drug Administration Sheet" for transdermal absorption of the treatment agents for hepatitis C and diabetes and "Vaccine Patch" to be inoculated with influenza vaccines. The patches may have various advantages, such as easier inoculation than that by injection or drip infusion, lower transportation and storage costs and self-administration enabled in the absence of a doctor or nurse. At present, a large number of people die around the world due to infectious diseases that can be prevented by vaccines. We hope to contribute to spreading vaccination in developing countries by marketing transdermal vaccines.
Click here for Application Products (Medical Products) of Microneedle Technology.
Click here for Application Products (Cosmetics) of Microneedle Technology.