Messages from Top Management
Message from Chairman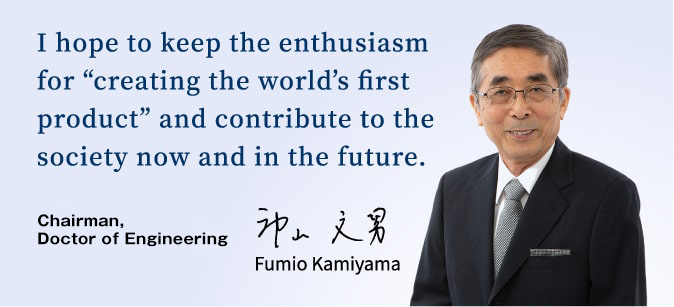 Message from President and Representative Director

From the professional pharmaceutical point of view, the effect of a drug significantly varies depending on the manner of administration, even if a quality drug is used. It is important to find an easy dosing method, for example, ingestion or injection, and also consider the efficacy of the drug itself and the lifestyle of the patient. The dosing method with such consideration is called DDS (Drug Delivery System).

The motivation for the development of our innovative soluble microneedle technology was "the feel of resistance toward inserting a needle into human skin". Since attending to the presentation on microneedles at an international meeting, I have been considering a form of microneedle drugs for easier use by the patients and for delivering better effect of drugs, with the understanding of the high potential of the microneedles. The key to microneedle drug form is the "technology to prepare base components according to active ingredients" that we have built. We started the development of the technology to form needles with skin-friendly components such as hyaluronic acid and collagen, unlike metals in syringe needles, and succeeded in penetrating a drug into the stratum corneum without injuring skin.

The unique technology created in our own process of developing drugs as mentioned above is applied to our own cosmetic brand, "Quanis", and hair grower brand, "fa:sa". The microneedle cosmetics make active ingredients and beauty ingredients, which cannot penetrate skin solely by applying to skin, penetrate deeply into the skin through the barrier of stratum corneum and have received high feedback from all parties concerned.

I consider it the most important to find "something unique" in my area of expertise and connect it to the happiness of the society through research and innovation of the "uniqueness" without concentrating only on research work. In particular, I intend to provide products that make women happy, that is, anti-aging products, and will continue to develop beauty care products concentrating on "skin patch products" with our technology cultivated through the course of developing drugs.

Thank you for your warm support and cooperation in advance.